Immigration Consultants in Vaughan, ON
Swani-Can Immigration is a Canadian Immigration and Citizenship Consultancy Firm located in Vaughan, Ontario. We are committed to maintaining a track record and relationship with our clients that speaks for itself through our skills, word, accountability, novelty and integrity. Our Immigration Consultants are members in good standing of the Immigration Consultants of Canada Regulatory Council.
With Canada's ever-changing immigration and citizenship system it is complicated and can be confusing to the untrained eye. Do you feel that you have been wronged but have no idea where to start? Swani-Can Immigration has been providing comprehensive and easy to understand counsel to immigrants since 2017. We know how overwhelming the legal process can be, especially when you are under an enormous amount of stress.We are one of the best Canadian Immigration Consultant therefore, our goal is to help you understand your rights and the issues affecting your case.
Our Team
Steven Stennett
CEO & Managing Partner
Practicing Canadian Immigration and Citizenship matters since 2017
Licensed (RCIC), Regulated Canadian Immigration Consultant
Member in good standing with (ICCRC), Immigration Consultants of Canada Regulatory Council
Counsel at IRCC, IRB, CBSA
Member in good standing with (CAPIC), Canadian Association of Professional Immigration Consultants
Studied Architectural Technology at Centennial College (Toronto)
Studied Immigration Practitioner Program at Herzing College (Toronto)
Currently studying Bachelor of Technology at Memorial University (Newfoundland and Labrador)
---
Cameron Williams
Immigration Consultant
Practicing Canadian Immigration and Citizenship matters since 2018
Licensed (RCIC), Regulated Canadian Immigration Consultant
Member in good standing with (ICCRC), Immigration Consultants of Canada Regulatory Council
Counsel at IRCC
Studied Police Foundations at Humber College (Toronto)
Studied Immigration Practitioner Program at Academy of Learning (Toronto)
---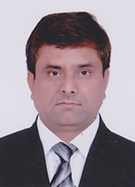 Arvind Kadian
Immigration Consultant, MA, M.B.A
Practicing Canadian Immigration and Citizenship matters since 2017
Licensed (RCIC), Regulated Canadian Immigration Consultant
30 years of experience as a Principal of College as well as a Professor in Higher Education, India
Member in good standing with (ICCRC), Immigration Consultants of Canada Regulatory Council
Member in good standing with (CAPIC), Canadian Association of Professional Immigration Consultants
Studied Immigration Practitioner Program at Academy of Learning (Toronto)
---